Quite often referred to as man's best and most loyal friends, dogs enjoy some great care and attention at their owners, feeding them, loving them, taking them to the vet, building them dog houses …
In essence, our homes belong to our pets as well, but some dog owners have chosen to provide their companion with a house that is specifically and exclusively intended for them, not just any doghouse, but a creative one in which they express their interest and love for their fury friend.
We have assembled in this post some of the most impressive and awesome dog houses that you will certainly love.
1- Luxury Dog House
This luxury dog mansion from Los Angeles is worth $30,000. Every part in this doghouse is custom, starting from the entrance flooring to the red-argil covered roof. With two little towers at the front, each one of them include a shadowed space that is air-cooled in the sunny, hot days.
If you are a a pet owner, then you'd be well aware of how important it is to keep your dog's place always clean especially if you allow them indoor. Therefore, when picking or designing a dog house, it is of great importance to do so whit the how-to-clean-it process in mind, Sometime a removable roof makes it quite easier.
2- Dog House: Curb Appeal
As soon as you see this masterwork, you instantly realize that so much effort must have been put into it. The designer of this outdoor dog house showed us that architecture may serve dogs as well.
This admirably designed dog house is suitable for medium and large breed dogs, it literally looks like a mini real house, it has windows with glass, detailed trim and copper flashing, you could also see plants around the door. As for insulation, the materials used which are mainly wood enable this luxury dog house to keep isolated from high and low outside temperature which makes it a perfect outdoor pet house.
3- Dog Mansion
Designing a dog house may go beyond the simple creation of a sleeping place for your pet, for some, it is also a way of expressing their interest in decoration and creativity, as well as care, love and attention for their dog.
This dog palace was designed as a mini replica of the owner's house, to be built, the same materials were used in order to make it as much similar as possible to original house. This art of work fulfills a double mission, it serve as an outdoor dog house and an interesting masterpiece.
4- Double Dog House
Wood is known to be robust and efficient material for building houses even for humans, this double wood-made doghouse seems to be quite pleasing for the dog who looks like using the top place as a watchtower.
To winterize a homemade dog house and make it a bit more comfortable to stay in for your dog, there are some additional arrangements you could make in order to do so, mainly putting in place some proper bedding, insulating materials for cold days etc… these options do not cost much but will help protect the welfare of your doggy.
5- Dog Architectural Engineering
There may not be specific steps for building an outdoor dog house, however, it is important to take into account the right dimensions that will make it possible for your dog to get in and move freely inside. The door should fit the pet's body and breed, if it's a large breed dog but in a young age for example, it should be made relatively wider and higher so the dog can use it comfortably as they grow bigger.
The materials to use should also be well thought especially the floor material, that has to be insulating to provide your fury friend with a good sleeping place, and the roof which obviously has to dispose water efficiently and keep the inside dry.
6- Dutch-Style Dog House
One of the key elements to also pay good attention to in a pet house is the doorway. The door has to be large enough for the dog to easily access or exit the house, but not so big that it leads to overexposure to outside temperature and excessive heat loss or the other way around.
Unlike humans, dogs can get used to doors that are smaller than their total height, they have no issue with having to bow down to enter their house. How big a door should exactly be? Well, there are those rules which they say do help in this matter. The first one is that the door height should be at least ¾ of the dog's height up to the shoulder. The second say that the dog's height from top of shoulder to the bottom of the chest should be no less than 1″ smaller than the opening. But regardless of these rules, you can always opt for a bigger door, just bear in mind that insulation will deteriorate.
7- V Shaped Dog House
This work of art is a small to medium breed-dog house, is it made of wood and plastic materials and is intended to be used as an outdoor house for your pet. The design which looks like a mini human house is perfectly thought, the V shape of it of allows a smooth water flow which helps keep the place dry and warm inside.
This model has enough room to move around comfortably, and is also well designed when it comes to air-condition as it has that open space above the main house which allow air to flow in and inside-air to recycle.
8- A Dog House Plan With a Porch
Designing a dog house in the form of an ordinary actual house for your pet might be an interesting way of expressing attention and care to your companion.
The outdoor house model below may be suitable for both small and large breed-dogs. The roof is constructed in way that enables water to dispose smoothly, also, the door is wide enough for small and big dogs to move in and out easily. The spacious veranda provides the pet with a perfect shadowed place to catch some cool air in hot times.
9- Dog Architecture
Alejandro and his wife Sara Pijuan work on the dog houses they create as ordinary projects, they apply the same architectural standards they learned in school classes to designing stylish and creative pet houses for different sizes.
This dog house model is called "1118 Woof Ranch" and is about 44″ wide to 72″ long. The low inclined roof and eaves provide passive ventilation and allow for a shaded interior for the pet. This house is made of high quality cedar materials, and a planter container is placed below eaves which allows rain water to keep the plants hydrated.
10- Wood-Made Pet House
Wood has been the most frequent material for building dog houses over the years, the reason for that being simply availability, low cost, insulating qualities, ease of crafting and structural integrity. The wooden dog homes demand has been met since the industrialization of economies by a number of big and medium manufacturers that specialized in wood-made dog houses. Some of the big companies in the market today are Ware Manufacturing, Blythe Woodworks and Merry Products.
When it comes to wood pet houses however, you could easily, if you're someone of a handy-person, get some tools and make your own homemade doghouse.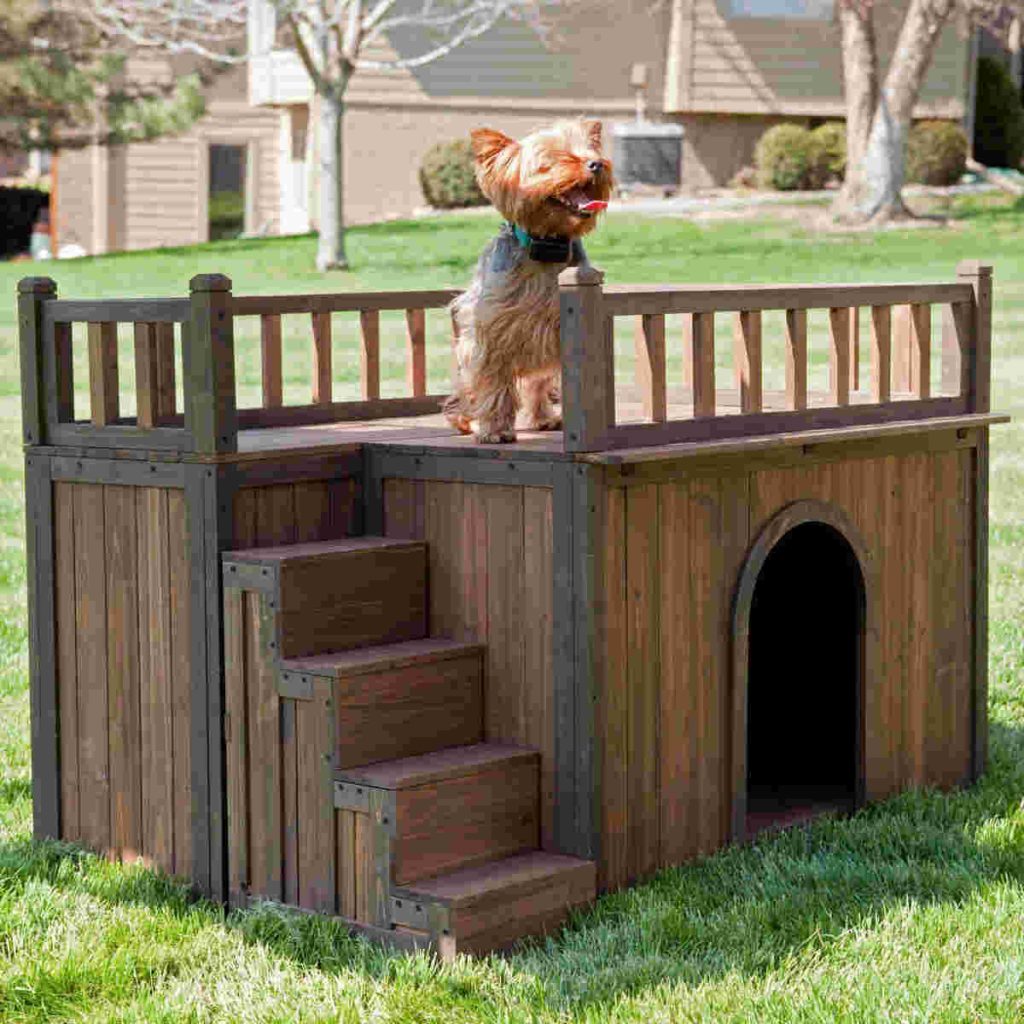 11- Dog House With a Kitchen
Dogs in general love to chill outside, so if you would build an outdoor house for them, why not make it a space that would offer them some comforts of being indoor.
This ranch-style dog house is made of plywood and is spacious enough for large-breed dogs. The outside space in the form of a small kitchen offers a shaded place for sunny days and a two fixed bowls for food and water. Also the removable roof makes it easy for cleaning.
12- Ranch-Style Dog House
If your dog house is to be installed in a large yard, deciding on the right spot may also require some attention of your part. Regardless of how insulated or rainproof an outdoor dog house is, it should still be placed and positioned in way that doesn't allow wind to blow in directly particularly if it doesn't have a closing door.
This outstanding and luxury ranch-fashioned dog house costs around $7,500, it comes with a dog swimming pool, stone siding, wood-made decorations and a bone decor at the entrance.
13- Wooden Big Dog House
This wooden dog house is simple and yet creative, it has that top space accessible through the side stairs where the dog seems to be enjoying the view. The roof is also well designed, the inclined position enables it to dispose water and keep the place dry inside.
The wood materials used in this model make it a great insulating outdoor house for the dog. It is also spacious enough for large-size dogs, the door is pretty wide and high as well.
14- Garden House
There are many ways to arrange for an outdoor house for your dog. Apart from purchasing one that is ready to install, you could take advantage of your backyard garden or terrace, use your creativity and design one from scratch, that way you also get to put your touch in the structure.
This doghouse here is but a simple and typical pup house, but the coloring and placement choice made it fit in the place in a stylish manner. So, the owner dog gets to enjoy the sweet nigh breeze and flagrant florals.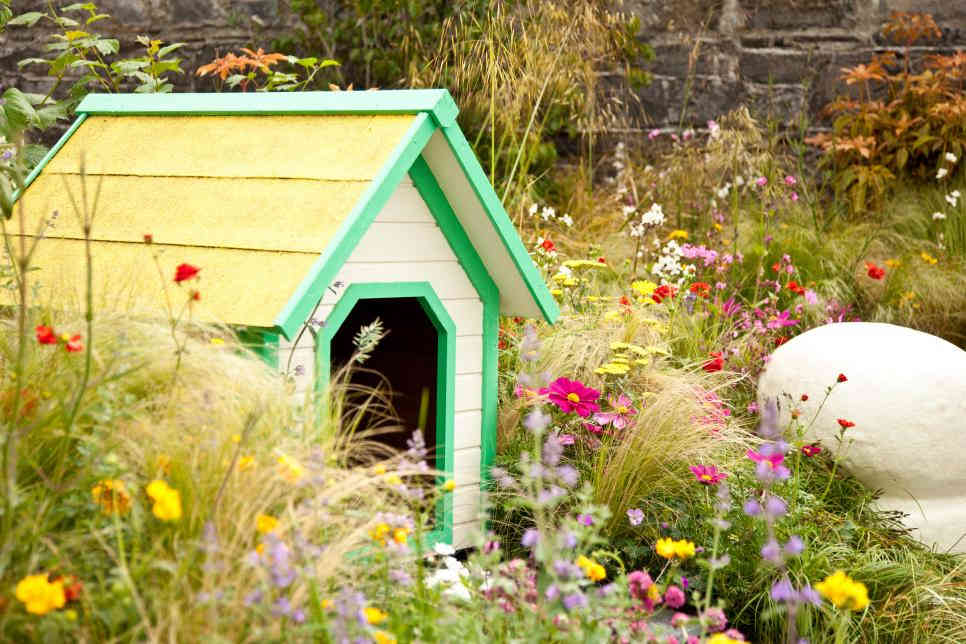 15- Train Wagon Dog House
Your fury companion might not care much about the good looking of their house, what really counts more for them is how warm in cold seasons and cool in hot days the dog house is. Your dog may not think about it that way though, but they would want an isolated hot place in cold rainy days, and a cool one in summer time.
The outdoor dog house below has some creativity put in it by the designer, it matches perfectly the green yard and is spacious enough for both small and large breed dogs. How comfortable is it ? Well, the Border Collie lying down at the entrance would tell us that.
16- Modern Dog House
With a built-in air conditioning system, humidifier and heat, this amazing dog house is designed by Fnky Pets to house basically all small animals, be it a Chihuahua, a cat or any other, and keep them in comfortable conditions in any weather. This pet house comes with many options such as a remote control for heating and air conditioning, LED lights and even an optional Wi-Fi camera to help keep an eye on your pets.
This modern dog room can be used as outdoor dog house, but for its optimized size, it can also serve as an inside private place where your pet can enjoy some alone time. This dog house is initially designed to accommodate small dogs and animals, but one could see that it could shelter comfortably one large-size dog as well.
17- Flat-Top House
This simplewooden dog house is solid, fashionable and combines functionality with a stylish design. The whole structure comes in an easy-to-mount dog house. The wooden and rainproof top is sloped to keep rain water and melting snow from getting inside. The roof is also flexibly-joined and can be removed to make the inside-cleaning easy.
This large-breed doghouse is mainly designed for the outdoor, but you could still use it in the indoor if you have space for it, its cubic structure makes it easy to fit in corners and even be used as some sort of table.
18- Dog Hut
This stylish "BowHaus" structure meets the dog's instinctive longing for a snug, enclosed space and yet makes a good-looking piece of furniture.
The dog hut is made of wooden and cedar plates and offers a place for two neighbor pets with a front space like old western countryside style. Furthermore, the dogs seem to be just so happy and excited about their place.
19- Indoor Dog House
Sharing the same bed with your dog may not be a healthy habit, and that's where the importance of an indoor dog house comes. This impressive dog box was inspired to match the interior design of the the house and provide a comfortable sleeping space for the dog.
For such wood-made dog houses, it's always cautious to check once in a while if there are no scratched spots inside the pet house since those may include some sharp wooden pieces that could poke into the skin of your dog. Also never place food inside of your pet's house as the bed will get smelly.
20- Dog Van House
Designing a place for your lovely pet may not be an easy task, especially if you're looking forward something that it is not only used as a simple dog house but does also have some creativity in it.
This dog house is an outdoor plan for small-breed dogs, it is meant to be installed in the home garden. This model as you can see in picture, takes the form of a van and is made of recyclable aluminum, plastic and plywood. The designing is an effort of Straight Line Designs and Judson Beaumont.
21- A Lasting Outdoor Dog House
Outdoor dog homes made of plastic may be a good option in certain cases, they can last for long periods of time without fading or cracking. Plastic dog homes may no be a perfect option, however, in climate conditions with very low or high temperatures for plastic is not much of an insulating material.
They could still be managed though to be suitable for cold weather by adding some adequate sleeping bed that would protect your dog from the coldness coming from the floor, and some isolating materials in the sides of the inside house would also make it better. But in hot-climate areas, plastic houses may not be a wise choice as plastic traps heat inside and dogs can't stand heat.
22- Inside Dog House
Some homes are fashioned to be installed in your backyard, that's what some dog owners consider to be a true pet house. However, there are also mobile pet houses which include dog tents, dog boxes, and different kinds of carriers that would be considered as a sort of temporary dog houses.
A dog house is simply that private place, be it in the outside or inside, that the dog would consider their own and in which they can sleep peacefully and enjoy some alone time.
23- Dog Room
Dogs are some of the most sociable animals, they love company, so if your pet is going to live in an outdoor doghouse, it would be good for them to place it in a location that is not too far from the house, that way they get a maximum contact and time to socialize with family members.
This pet place here is placed right at the entrance, the dog gets to know what's going on, who gets in and out and when something requires an intervention. This white room has also a a see-through window allowing the dog to get a feeling of the situation around while still sheltering from the cold night breeze.
24- Wine Barrel Dog House
Providing a house for pets has taken quite some different and creative tendency for some dog owners, between acquiring a ready-to-use dog house from the market or designing one from scratch, this dog owner has went for something quite different.
Using a wine barrel as a sleeping room, with two stands to lift it from the ground and stabilize it, an adjusted inside-surface, the owner Alaskan Malamute seems to be enjoying this doghouse just well.
25- Dog Motel
Modern dog houses are made with better and more environment-friendly materials. Sustainable roofing shingles make the trend as they're energy-efficient dog houses. There are other solutions for recyclable material for flooring as well as roofing that would still look elegantly and resist molding and scratching.
This environement-friendly built dog motel matches the garden perfectly and offers a niche shelter for the puppies.